Five Leagues and Running
50+ news links and 20+ job links from sports in the Pacific Time zone including the latest with the WNBA, Bosa, Adams, MLB and MLS is back.
Greetings, If you're expecting game scores or injury reports this ain't the newsletter for you. There are plenty of outlets with that information readily available for free, many linked here.
You might get lucky and score some fantasy or gambling guides as well as the occasional schedule or game recap here. Scores and schedules will come up when they intersect cities and transcend verticals too.
Otherwise, this is more of the storylines around the storylines. An easy read you can skim pass sports, characters or regions you don't care about. I'm trying to make it less overwhelming to write and consume now that sports are back, back.
My writing will keep you going. I hope it connects some dots and exposes you to something you didn't know beforehand. Whether you're a hardcore sports reader or casual fan, you didn't know from the sports in the Pacific Time zone. Let's connect the dots.
I saw a survey that said only one percent of sports fans identify as a fan of four or more sports. Yet there's 15 % of fans who identify as following three or more sports. Compared to over 60% of fans who say they follow at least one sport. I hope my writing We Are West Sports bridges that gap.
Our bet is more fans would consume sports if they understood pro sports' impact on business and community even outside their direct metropolitan influence. Sports are global businesses but they've been consumed first hand on regional access for decades. The bias here always points west to the Pacific Time Zone.
Yet, national outlets and local outlets can both go too deep. They feel like never-ending sports wormholes, we might not have time for. This newsletter doesn't talk down to anyone. We don't waste your time because we cut 100 something sources to only what you need to feel more connected to people in your time zone.
And even those of us who consume plenty of sports content might need extra helpings from our time zone.
How else do you follow the rest of your division? Don't you want to know when the Soccer, Basketball or Hockey team you don't follow does something awesome?
What if that meant building more connections with colleagues and friends or deeper bonds with spouses and family? That's why the links exist. Jump as deep as you want to. You can't catch everything but I can catch most of it. If I miss something please shoot me an email, real talk.
People don't always need to know the score or the numbers to feel engaged with what their friends, colleagues and spouses are actively consuming. This is the one newsletter they need to reference in their week.
Either way, thanks again for your shares and the support. Catch the new graphic below. Jobs are also back since omitting them dropped my open rates last week. I also tried preformatting templates to save time this week. #Adapting.
Sincerely,
Pete D. Camarillo aka a dude missing Staples Center right now.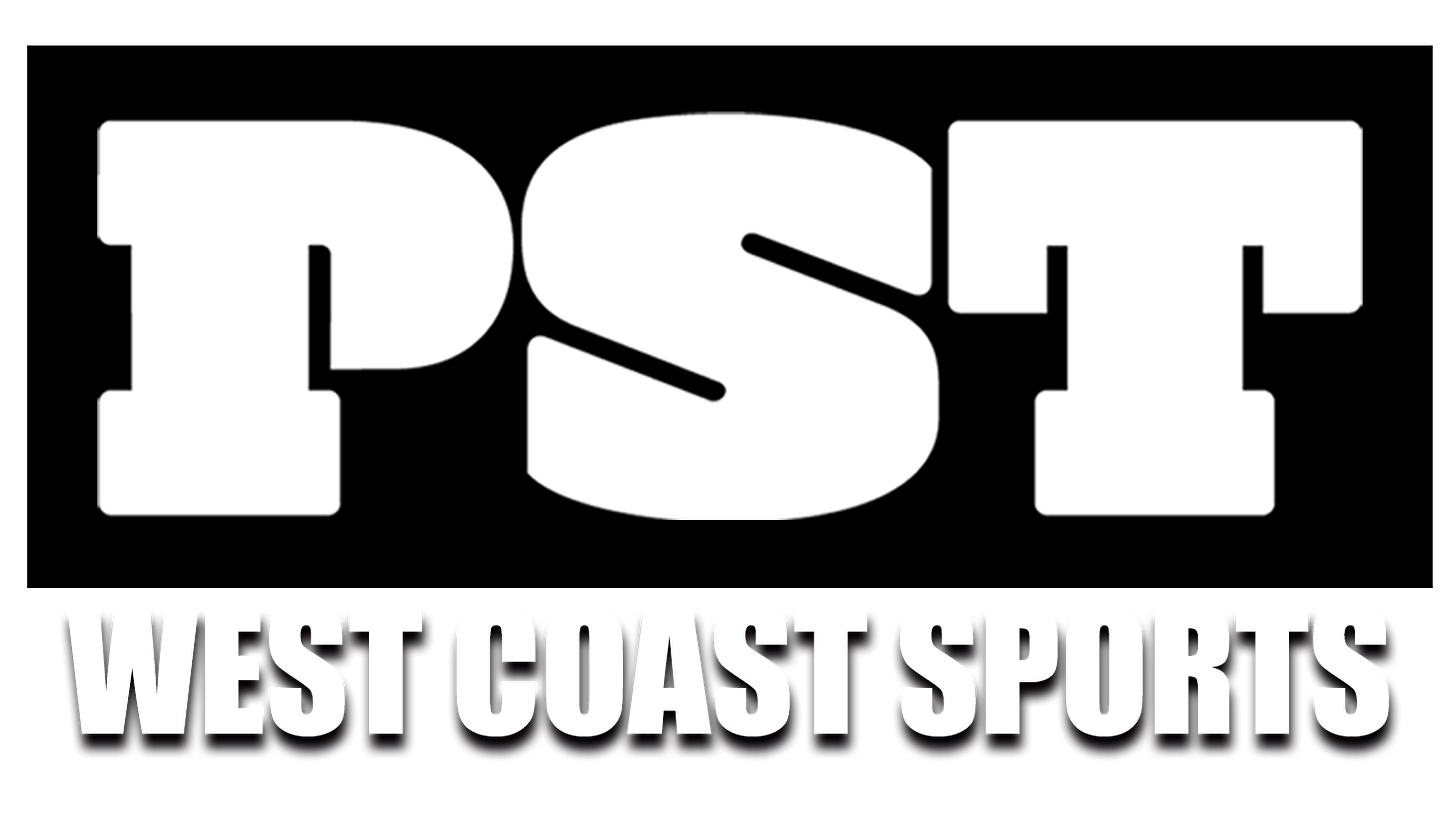 The Best from the West
West Coast angles on national sports news dug up for your convenience.
Opening Day Bout a Week Ago
OK, But what's been happening since?
The Dodgers and Giants split a series. San Francisco wraps up a series versus the Padres this week. Padres are 4-1 after winning over the Giants Tuesday.
Anaheim started a series with the Mariners this week with a 10-2 win. Otherwise, they started slowly as Oakland took a 3-1 series win over the Angels. Here are more headlines from the opening week of baseball.
PADRES (4-1)
DODGERS (3-2)

A's (3-2)
GIANTS (2-3)
ANGELS (2-3)
MARINERS (1-4)
FINALLY some Hockey
So Far, the West Coast's lone NHL bubble member, the Vegas Golden Knights, love the NHL's bubble. They praised the cleanliness and safety of the Edmonton bubble.
Still, the Knights will be without their leading scorer for now. Left-winger Max Pacioretty did not travel with the Knights to the bubble. The 31-year-old missed practices with a minor injury and plans to join when he is ready.
VGN plays its first exhibition versus the Arizona Coyotes on July 30. Actual play starts on the third versus the Dallas Stars.
MORE TBDS ON THEIR SCHEDULE
Aug. 6 — Round-robin vs. St. Louis Blues, time TBD, AT&T SportsNet.

Aug. 8 — Round-robin vs. Colorado Avalanche, time TBD, AT&T SportsNet.
NHL FANS ON BLM: Golden Knights fans show a total contrast to WNBA and Aces on social justice. There are only about 45 black players amongst the 31 NHL rosters.
STORM ACE WNBA SPARK
Yeah, yeah that was a play on words because the Las Vegas Aces, Los Angeles Sparks and Seattle Storm all showed out this past weekend for the WNBA's launch.  
The W added more games as broadcast ratings skyrocketed. Saturday's game between the Sparks and Phoenix Mercury on ABC became the most-watched opening day game since 2012. 540,000 average viewers watched which improved 20% from last year.
Meanwhile, the Aces (0-1) blew a late 9-point lead over the Chicago Sky team they eliminated from the postseason last year. Angel McCoughtry still dropped 25 points in her Aces debut.
Otherwise, the Storm (2-0) started the season by handling the Liberty and rolled that into a win over Minnesota. The Sparks (1-1) dominated the Mercury.
CAN'T MISS: Sparks and Storm faceoff Sat. Aug. 1 at 5 p.m.
MLS' Elite Eight Highlighted by Three Out West
MLS entered the quarterfinals this week and the West Coast holds stakes in three matchups. Here's the schedule:
Philadelphia vs. Sporting KC (Thurs. 5 pm)

Orlando City vs. LAFC (Fri. 4:30 pm)

San Jose vs. Minnesota (Sat. 5 pm)

NYCFC vs. Portland (Sat. 7:30 pm)
Other MLS back action you might have missed:
LAFC broke the Seattle Sounders' hearts. Diego Rossi enabled LAFC's revenge on last year's Western Conference Final loss to the Sounders. LAFC secured a 4-1 win thanks to his first two goals.

San Jose surged for their elite eight berth with a 5-2 win over Real Salt Lake on Monday. The Earthquakes were one of the first teams to arrive in the bubble and their chemistry showed it.
West Coast Sports Reads
Must-reads from sports in the PST so your small talk connects better on your next Zoom call or group chat.
Sweet Lou King of the Bubble this Week
Like you needed any more wing content this week as Lou Williams dominated bubble headlines with his trip to a famous strip club. The joint also happens to be the Six God's favorite restaurant, featuring his own sauce.
Still, he'll need to quarantine for a few days after a funeral and his infamous wing stop. The Clippers could also be without another key contributor as Montrezl Harrell is still outside the bubble on a family emergency.
On the other side of the anticipated restart matchup between the Clippers and Lakers, Anthony Davis will not miss the restart opening with an eye injury he suffered in practice. Many of the Lakers players rested this week anyways.
MORE FROM THE BUBBLE: Kings forward Harrison Barnes returned to the bubble. The Kings forward admitted his wife and mother both got COVID-19 too.
PS: B/R's 30 in 30 NBA Preview for the Blazers, Clippers, Kings, Lakers and Warriors.
Hit our West Coast Sports Calendar so you don't miss a tip-off including Lakers-Clippers on Thursday at 6 p.m.
Seattle Hockey Gets Kracken
The Seattle Hockey Expansion unleashed their Kraken mascot last week. The Sharks made a SyFy movie joke. The Ringer applauded them for selecting a creature that regained infamy recently thanks to some Pirates of the Caribbean cameos.
Either way, the expansion team already crush the Golden Knight's expansion merch record by 50%. Seattle once again proved it's a strong pro sports market with this launch before they take the ice in 2021-22.
REMINDER: This 32nd NHL team will require an expansion draft. Here's a way too early mock.
Joey Bolts Up for Five More Years
The Los Angeles Chargers re-signed 2016 No. 3 overall draft pick Joey Bosa to a deal on Tuesday. He's only 25-years-old and received the highest-paid defensive player contract yet.
Bosa's deal includes $78 million upon signing and $102 million guaranteed throughout the contract. The Ohio State great's resume includes 40 sacks in 51 games. Bosa missed 13 games to injury but still ranks in the top-five for sacks and sacks per game.
Here is how the Bolts edge stacks up versus his L.A. defensive counterpart, Aaron Donald, as well as his little brother, Nick Bosa, in the Bay.
MORE FROM THE CHARGERS: Receiver Keenan Allen talked his ish. The receiver called out a bunch of players he says are not better than him.
Seahawks Secure Adams
Speaking of contracts, the Seattle Seahawks once again made a deal for a disgruntled player in the middle of contract negotiations. They traded with the New York Jets for All-Pro safety Jamal Adams late last week.
Seattle sent two first-round picks, a third-round pick and safety Bradley McDougald for Adams and a fourth-round pick. Adams was vocal about wanting out of New York amid contract negotiations. He even called out the Jets owner Woody Johnson when comments revealed how Johnson felt about equality.
You might remember the Seahawks gambled on trading for Jadeaveon Clowney before the season last year. They also traded for Sheldon Richardson the year before. Both players walked from the Seahawks after a year but those were firesales. Seattle paid a premium for Adams and they should extend him. However, it doesn't look like a deal is coming right away.
WHY IT MATTERS: The NFC West is loaded but the Seahawks might feature the best safety tandem in the NFL. You can read more about the upgrade in production the Seahawks just bought here.
West Coast Sports Links
Idols, rivals and anything else you might have missed from your favorite regions this week.
FANTASY
PACIFIC NORTHWEST
NORCAL
SOCAL
NEVADA
MEDIA and More
West Coast Sports Careers
The best Sports Jobs posted this week for those making their living in West Coast Sports. It's mostly creative, marketing, writing and comms jobs but there's something for every state and every level.
CALIFORNIA
OREGON and WASHINGTON
NEVADA
REMOTE
More West Coast Vibes
Song recommendations to promote your West Coast State of Mind.
This week's song suggestion comes from a picture that went viral this week. Colin Kaepernick and Dr. Dre took a pic on a knee together.
So this week's musical vibe is for you ol' heads. Which Chronic was better?
The Original or 2001?
Both stay in my rotation and own pieces of hip hop history. However, I'll go in 2001. I at least caught some of that wave as a kid. Let me know your pick in the poll above.
If you aren't familiar with either, just reply and I'll put you on game.
Thanks again for reading this far. There's a lot of daily sports newsletters promising short, sweet and skimmable news every day. Mine isn't one of them.
We Are West Coast Sports is a skimmable weekly read covering 7 pro leagues as well as esports and sports biz.
If you know a sports reader or casual fan who might enjoy over 100 sources cut down to one weekly email forward them this email and get them to subscribe.